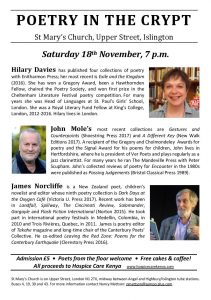 Our friends Nancy and Mike are once again kindly supporting us with another Poetry in the Crypt event. This evening of poetry will take place in The Crypt at St Mary's Islington on Saturday 18th November 2017 at 7pm.
The evening features works and readings from three published poets:
Hilary Davies has published four collections of poetry with Enitharmon Press; her most recent is Exile and the Kingdom (2016).
John Mole's most recent collections are Gestures and Counterpoints (Shoestring Press 2017) and A Different Key (New Walk Editions 2017).
James Norcliffe is a New Zealand poet, children's novelist and editor whose ninth poetry collection is Dark Days at the Oxygen Café (Victoria U. Press 2017).
Admission costs £5 on the door with all proceeds supporting Hospice Care Kenya. Poets from the floor are welcome to participate, and free cakes and coffee will be provided!
St Mary's Church is on Upper Street, London N1 2TX, midway between Angel and Highbury/Islington tube stations. Buses 4, 19, 30 and 43. For more information click on the e-flyer above or contact Nancy Mattson: [email protected]
Poetry in the Crypt November 2017