We are currently supporting 19 Hospices, Palliative Care Units and Training Programmes across Kenya, to provide quality palliative care, and train health workers and community volunteers.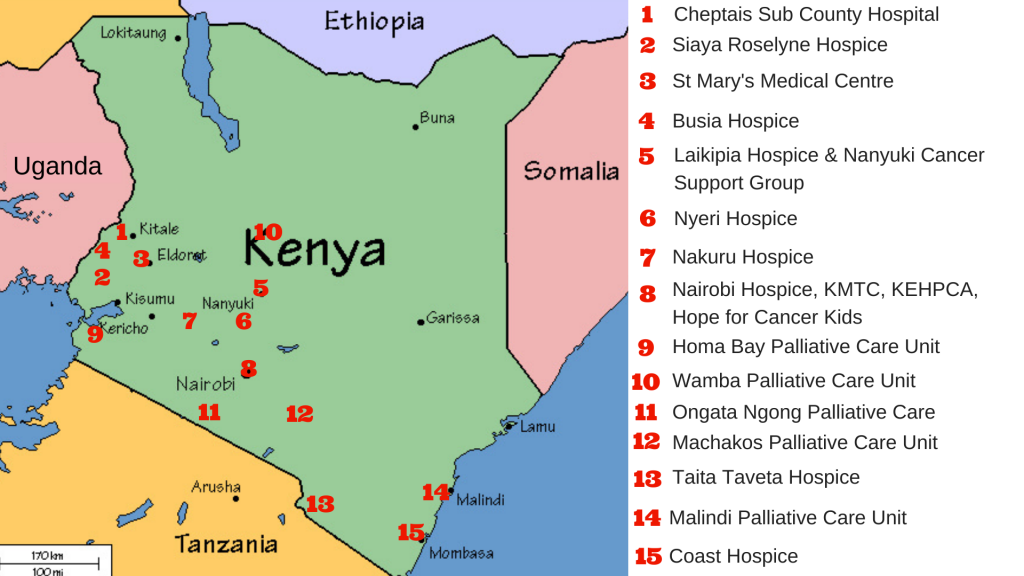 We are supporting Siaya Roselyne Hospice to make some essential repairs to the hospice building, and purchase mattresses and bedding, to improve the hospice environment for patients.
We support the running costs of Busia Hospice to ensure that they can reach patients living with life-limiting illness across a huge area of rural Kenya.
Coast Hospice in Mombasa is providing care to patients with our support towards the purchase of essential medicines and medical supplies.
Cheptais Sub County Hospital is training 30 health workers and volunteers to strengthen community palliative care services in the north of Bungoma County.
We are supporting Homa Bay Palliative Care Centre to build capacity and awareness of palliative care within the county health system by training 100 health workers across the county.
Laikipia Hospice is training health workers, volunteers and patient carers in palliative care to extend services out into the community. We are also supporting Laikipia Hospice in partnership with the Community Awareness Volunteers of Nanyuki Cancer Support Group to raise awareness of cancer in the local community and to provide care to patients in their homes.
Nyeri Hospice is providing home-based care to patients through regular home visits with our support.
We are supporting Nakuru Hospice to train community health volunteers and health professionals in palliative care to build capacity across the county to meet the needs of people with terminal illness.
We are supporting Nairobi Hospice to train 50 Community Health Volunteers in Kawangware and Korogocho slums, giving some of the poorest patients in Nairobi access to palliative care. This year we are also providing partial sponsorship for nurses undertaking a Diploma in Palliative Care with Nairobi Hospice and Oxford Brookes University.
We are sponsoring students to complete a Higher Diploma in Palliative Care Nursing at Kenya Medical Training College (KMTC), Nairobi Campus.
We work closely with the Kenya Hospices and Palliative Care Association (KEHPCA), which promotes the development of palliative care services in Kenya through advocacy, advice and training. We are pleased to contribute towards the running costs of this valuable organisation. KEHPCA are also carrying out training for trainers of 40 community health volunteers on our behalf.
We are working with Hope For Cancer Kids to cover the cost of basic health insurance for children from disadvantaged families who have been diagnosed with cancer. This enables them to access curative cancer treatment, increasing their chances of survival.
Ongata Ngong Palliative Community Care is working in rural pastoralist communities supporting home-based care and raising awareness of cancer and Covid-19.
We are supporting Machakos Palliative Care Unit to run day care sessions for their patients, providing them with advice and peer support.
We are supporting Malindi Palliative Care Unit to develop their programme of community services including home visits to patients and support groups. So far the project has supported 54 adults and 3 children through its support group and carried out 110 home visits during 2020, despite the challenges presented by Covid-19. In 2021 we will be supporting Malindi PCU to sustainably develop palliative care in Kalifi County by supporting them to train Community Health Volunteers, community leaders, rural health workers and hospital health workers, with contributions from our BBC Radio 4 Appeal.
With funds raised during our BBC Radio 4 Appeal we will be supporting St. Mary's Medical Centre in Eldoret, Wamba Palliative Care Unit in Samburu County and Taita Taveta Hospice to train 135 community health workers and volunteers.