We are pleased to announce that our "Friends" Nancy and Mike are again holding Poetry in the Crypt events at St Mary's Islington to raise funds for Hospice Care Kenya. The first Poetry in the Crypt for 2017 will be on Saturday, March 25th at 7 pm at St Mary Islington, Upper Street, N1 2TX. We are delighted to have three excellent featured readers: 
John Freeman – latest collections What Possessed Me (Worple Press 2016), and Strata Smith and the Anthropocene (KFS 2016)
George Szirtes – latest collection Mapping the Delta (Bloodaxe 2016)
Ruth Valentine – latest collection Downpour (Smokestack 2016)

 
Click on the attached flyer for full details.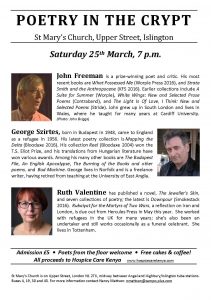 We hope you can join us on March 25th and chat over FREE cakes and coffee in the interval. Bring a short poem and come early if you wish to read from the floor.
All proceeds to Hospice Care Kenya.