We are proud to support the dedicated palliative care professionals and volunteers working across Kenya. With your help they are bringing palliative care into the community to reach more patients and their families when faced with terminal illness, but there are many more still in need of this vital care.
This is Irene; a widow with four children, she was recently diagnosed with cancer of the oesophagus at just 42. With the help of her son she had travelled by bus for several hours from her rural village to visit Kisumu Hospice. They had to save up enough money just to make the trip, so that Irene could receive the care and medicines she desperately needs to manage her pain.
She told us that cancer has been a disaster for her family. Unable to carry on her job as a classroom assistant, the family face a daily struggle to feed themselves, which Irene told us has left her depressed and under immense stress. She is painfully thin and frail.
Three months before, Irene had started experiencing pain when swallowing. As time went on the problem became worse. Able to eat only small amounts of liquid food she quickly lost a lot of weight and became very weak. A local private clinic only gave her medicines for ulcers which had no effect. Eventually their priest noticed her condition and advised her to go to Kisumu Hospice to see Dr Onyango, the oncologist in charge. Finally, she received her diagnosis and was given the treatment and pain relief she needed, for free. Hospice nurses will visit her and her family at home to provide care so that she no longer has to make the arduous journey to the hospice.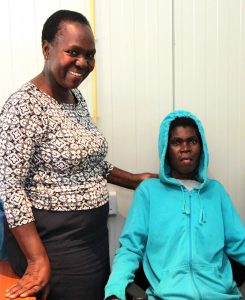 Free home-based care will save the family the cost and physical strain of travelling to the hospice. It will provide emotional support, helping them to cope, and will relieve the burden of care on her children so that they don't have to miss school.
Hospices in Kenya do an incredible job for cancer patients, but they need more support to reach patients who are too sick or too poor to travel vast distances to get to a hospice. They also need support to raise awareness of cancer and palliative care services.
This year we aim to raise over £60,000 to support adults and children in Kenya living with life-limiting illness.
£20 supports regular home-visits to care for a patient and their family living with cancer
£50 provides morphine for vital pain relief for five patients at the end of life
£100 can train a group of community leaders to raise awareness of cancer and palliative care services
Please help us to improve the lives of whole families affected by cancer with compassionate palliative care. Donate here. Thank you.
Our 2020 appeal for support – Irene's Story