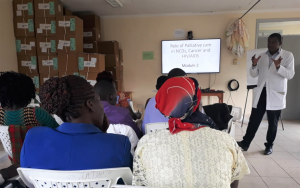 With our support, Webuye County Hospital Palliative Care Unit is bringing palliative care into the community by training a group of ten Community Health Volunteers to deliver home-based care in the county. The volunteers will be supported in their day to day work by two Community Health Engagement Workers who also took part in the training. The trainees spent a day learning about the principles of palliative care, followed by a two-day hands-on clinical training including wound management, administration of morphine, pain and psychosocial assessment, and communication. Volunteers commented:
"Palliative care is new to us but it is very important"
"Today I have learnt new things, which I never knew, now I feel I can help patients even better"
"I realized many patients are suffering in their houses without knowing what is happening and not able to visit the doctor. Now with this knowledge I can help support patients and link them with the hospital"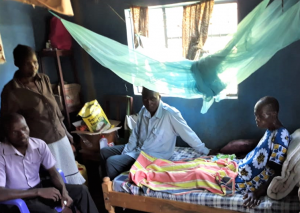 With the knowledge and skills they need to provide quality care to people with life-limiting illness, the volunteers are already caring for 52 patients and their families at home. This care in the community is a life-line for many patients who need regular care and support but are too sick or can't afford to travel to a palliative care centre. Click here to read more about Community Health Volunteers.
Reaching the community in need in Webuye County