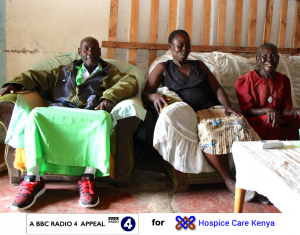 Joseph is in his 50s and lives in a village in western Kenya. He knew something was wrong when pain in his back and legs was preventing him sleeping. But he was shy about seeing a doctor. It was his worried mother who did something about it. She spoke to Grace, who lives locally and is part of the small revolution in health care that has taken place in Kenya and other African countries….the creation of community health volunteers.
Joseph felt he could trust and talk to Grace. She knew things were serious – got him seen at the hospice in western Kenya's largest town, Kisumu – and there he was diagnosed with prostate cancer. He was prescribed morphine to control his pain. Grace would visit him in his home, to monitor his pain and support him to take his medication regularly. She also gave Joseph and his mother the emotional support they needed. Joseph says Grace gave him the strength to earn a small income selling milk from his cow, just enough to support him and his mother.
With our support Grace took part in palliative care training last year where she learnt to recognise symptoms of cancer and other life-limiting illnesses and deliver palliative care to patients in their homes. Even though Grace has a family of her own to look after and food to grow on her small plot of land she supports the health of more than 80 families in her village.
The challenges when cancer strikes couldn't be more obvious. In rural Kenya, awareness of the disease is still low and most patients are diagnosed only when the cancer is already well advanced. Patients are often sent home from hospital with no regular pain killing medication or follow up arrangements. Thankfully there is now a growing network of hospices but most cover huge areas on tiny budgets. Providing care to those who are too sick or too poor to travel to a hospice is an enormous task. Many, many more palliative care trained community health volunteers are needed.
Our week long BBC Radio 4 appeal which featured Grace and Joseph has now finished. Thank you to everyone who supported our appeal. You can still listen to our BBC Radio 4 appeal here and DONATE direct to us HERE. Thank you.