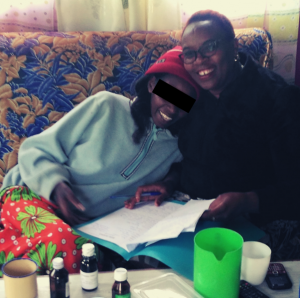 Jane is a young, vibrant, upbeat mother of two. So, when she was diagnosed with colorectal cancer in 2015, she was determined to fight. "My attitude was like, okay, I've got cancer; I need to beat this cancer for the sake of my young children who need me." After colon surgery and a round of chemotherapy and radiotherapy Jane's health deteriorated, "I went into a really bad depression. The pain and being sick, and the stress, just brings you mentally down."
After finding out her cancer had spread to her liver, she was told that she was not a good candidate for liver surgery. "I felt frustrated, confused, and suffering from debilitating symptoms from both cancer and its treatment, I wanted to get well so that I could go back to my family", Jane said.
"A neighbour came to my house and advised me to visit Meru Hospice. She told me that her husband received a lot of care and support when he was diagnosed with cancer; although her husband died, he died without pain and had accepted his diagnosis."
"I was received well at Meru Hospice and sat down with my palliative care team to discuss my goals of care, including my strong desire to have liver surgery. I told my palliative care doctor, 'You know, I'm young. I have young children. I have a husband that I love, that I don't want to leave, and not treating this cancer wasn't an option for me.' From that very first meeting with hospice staff, I felt at ease. I love going there. It's a warm, welcoming place."
"The hospice team referred me to Nairobi for liver surgery to remove a tumour. I was discharged home after two weeks and the hospice care team helped me to get back on track with my strength and my health. They advised me on the best food to eat."
"Hospice care has given me my life back, I'm not so stressed. I know ways of dealing with things. I have only been with them for less than a year, and, you know, I've been dealing with my illness for over three years and this is the best I've ever felt. Though I am still on Morphine, I feel I am well. I am able to do minor household jobs. I am happy and my family is happy too. I have faith that I will live to see my children grow and become independent."
Thank you to Jane for sharing her story. Please help to ensure that other families battling cancer can access palliative care by donating here.
Fighting Cancer – Jane's Story