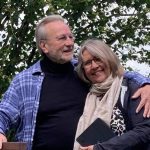 Poetry in the Crypt is a popular evening of poetry held quarterly at St Mary Islington in London. The events are organised by friends of Hospice Care Kenya, Nancy Mattson and Mike Bartholomew-Biggs, both church members and writers, each with many published works of poetry. Each event sees acclaimed published poets invited to read their works alongside other fine poets, with regular contributions from poets from the floor and audiences of up to 50 or 60. The evening made a welcome return in October after a three year pause due to the pandemic.
The event has been running for over 20 years. Since 2009, all proceeds from the  evening have been donated to HCK, with funds raised now totalling an incredible £5,000. Since its inception, over 100 guest poets have read at Poetry  in  the  Crypt and generously forgone a fee to  maximise the funds raised to  support a good cause. As members of St Mary's Church, former Chair of Hospice Care Kenya, the late Liz Salmon, and current Chair, Sally Hull, have regularly shared updates on our work in Kenya, and this personal link inspires Mike and Nancy to support us.
"We know where the money goes and we know how far a pound stretches in Kenya. We really believe in the work because of our personal connection and everything we know the charity has done over the years in Kenya to provide palliative care. We are delighted to support Hospice Care Kenya"

~Nancy Mattson
We would like to thank Mike and Nancy, and the many contributing poets, for choosing to support our work at these events and wish them continued success. Poetry in the Crypt has now been rebranded as Poetry Above the Crypt and will take place in the church which can welcome a larger audience.
Poetry supporting palliative care