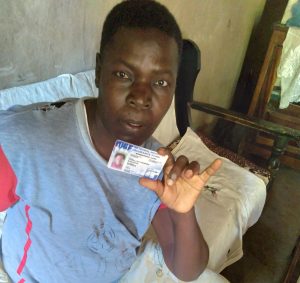 In our newsletter of Summer 2019 we shared the story of Pamela. A mum of two girls, Pamela was unable to afford treatment for advanced breast cancer. With no access to palliative care she lived with untreated wounds and only paracetamol for her pain. Thanks to donations to our appeal, Busia Hospice was able to provide her with home-based care. Pamela was able to resume chemotherapy treatment and her daughters were able to return to school.
Today, Busia Hospice nurse Peris tells us that Pamela is 'strong and still fighting'. Her breast cancer is causing painful wounds and has spread, but  hospice nurses visit her regularly to treat her and provide her with morphine to keep her free from pain. We have helped her pay to enrol on the government health insurance programme which will ensure she continues to receive palliative chemotherapy for another year.
DONATE HERE to help more patients living with cancer to receive the care they need. Thank you.