It is with great sadness that we announce the death of Liz Salmon, a long-term supporter of Hospice Care Kenya, who joined the board as a trustee in 2000, and served as Chair of HCK between 2002 and 2015.
Liz had a long professional career as a radiographer, and particularly enjoyed teaching and supporting radiography students in the NHS. In the evenings she studied at Kings College London and in 1982 gained her Master of Theology degree. She went on to become a Licensed Lay Minister, and for over ten years had the position of Warden of Readers in Stepney (east London), training and encouraging others in the lay ministry.
As Chair of HCK, Liz was central to the development of the charity. Initially it was set up to support Kenya's first hospice – a small building in the grounds of Kenyatta Hospital in Nairobi – but it soon provided core funding support to a growing number of voluntary hospices throughout Kenya. These were often started by a family member or nurse who were determined to improve patient care towards the end of life, and Liz was equally determined to support them. She was also involved in establishing the Kenya Hospice and Palliative Care Network (KEHPCA), an umbrella organisation which provides practical support to the hospices and is a powerful advocate to Government.
Over the years one of Liz's greatest pleasures was visiting the hospices, getting to know the staff and learning about what they really needed. I was lucky enough to visit Kenya twice with Liz, and we were able to watch the development of services and the increasing professional growth among the staff.
Over two decades Liz raised thousands of pounds for HCK, much of this from her regular marmalade sales which were a major attraction at the church Christmas fair. She leaves a lasting legacy in the many lives in Kenya she has helped to improve. Liz will be missed by all at HCK and her many friends both in the UK and Kenya.
She was remarkable in many ways. I remember her coming to her first Nairobi Hospice Charitable Trust meeting, later to change to HCK. Liz was about to retire and had time for something new. With her medical background and compassionate nature she was immediately drawn to the work that HCK was doing in driving palliative care forward in Kenya. This was in the early 90's so Liz must have been involved in and so much part of supporting the work for around 26+ years. She has been such an active trustee but also a fundraiser. I know she has done much else to raise those not always huge sums – but amounts that add up in a small charity to making a significant difference overseas.

We all have many reasons to be grateful to Liz for her contribution to the development of palliative care in Kenya. Liz certainly put life into days- hers as well as others- and not just days into life, a phrase that Jane Moore and I coined when we founded Nairobi Hospice.

Ruth Wooldridge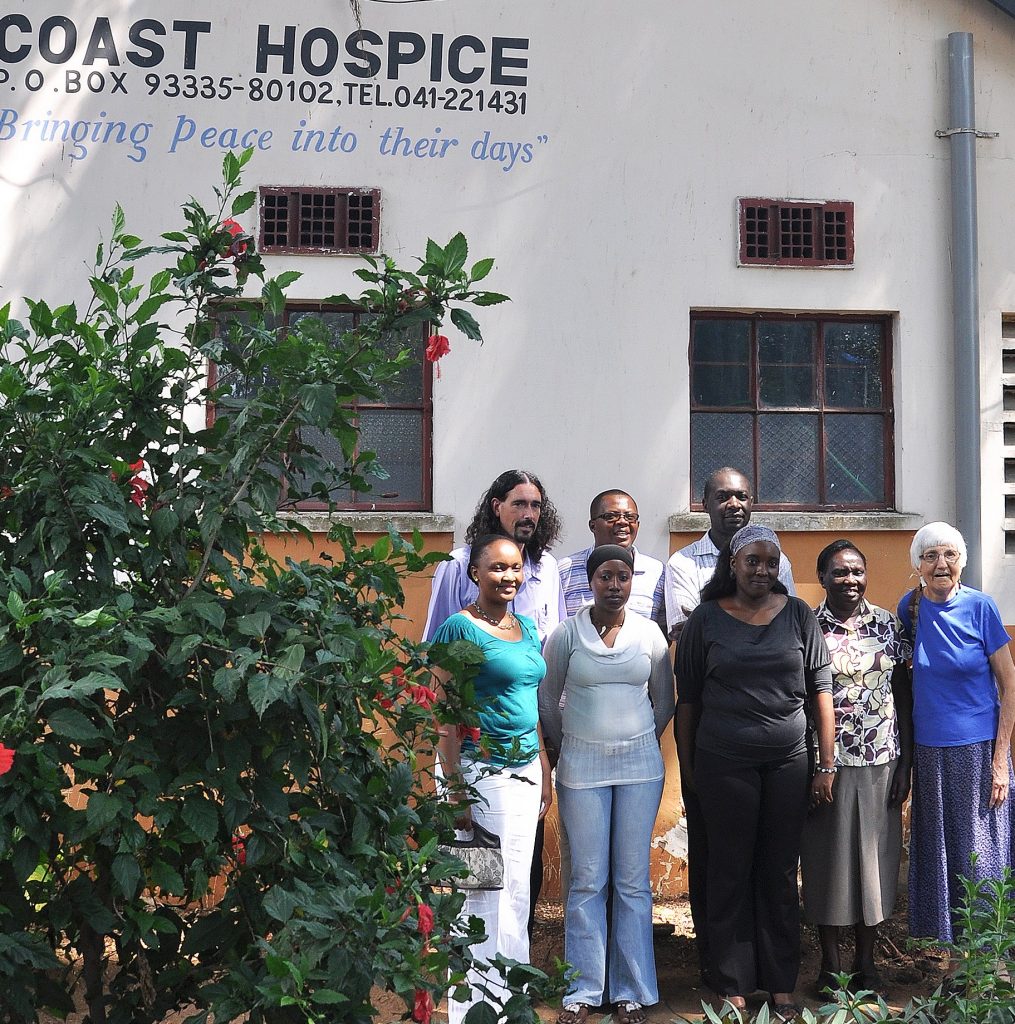 Announcing the death of HCK friend Liz Salmon