Alfred, in his 40s, lives in a small mud brick house with his wife. For six months Alfred had suffered with blurred vision and pain around his eye. He had severe mouth and throat ulcers, had difficulty swallowing, and had lost a lot of weight. He tried to get help and visited several doctors but had only been prescribed antibiotics and paracetamol which didn't help.
His village community health volunteer, Kenneth, heard about his poor health and paid him a visit. Kenneth had recently trained in palliative care with support from Hospice Care Kenya so he knew that Alfred's symptoms suggested something more serious. After a call to the nurses at Busia hospice, Alfred was referred to the correct place for further investigations. At last he received his diagnosis; advanced throat cancer.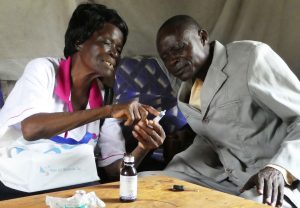 Kenneth was able to visit Alfred every day and be on hand whenever he was needed. He helped Alfred to take the morphine prescribed by the hospice which keeps him comfortable and free from pain. He gives advice and comfort to the whole family, just listening to their worries. The hospice nurses are just a phone call away if Kenneth needs support.
Alfred couldn't afford cancer treatment, he died 3 months later, but Kenneth's compassionate care meant that Alfred was comfortable until the day he died, at home with his family, and he knew that Kenneth would be there to help his family cope through their bereavement.
Please help us to provide compassionate care and support to more families like Alfred's. Just £50 supports a hospice to carry out home visits to patients for a whole month, or can train one volunteer, to make sure that families are not left to cope alone when faced with cancer. DONATE NOW.