Ken is eight years old and has a type of cancer called Retinoblastoma in both his eyes.
His family gave us permission to share his story.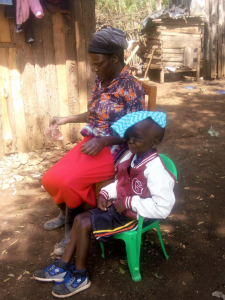 Ken was just two weeks old when his mother noticed a shiny spot in both his eyes. But her concerns about his health were not taken seriously by doctors, and it took a long time before he was finally diagnosed with cancer.
He was treated with chemotherapy and radiotherapy, however in Kenya these treatments are not free and financial constraints meant the family were unable to afford consistent treatment. Surgery was also unsuccessful. Ken developed a recurrence of his cancer and lost his sight in both eyes.
Ken was referred to Nyeri Hospice who visit him at home to provide care. Home visits from hospice nurses ensure that the family know how to best care for Ken. Ken and his family receive counselling. He is provided with morphine to relieve pain and keep him comfortable.
Esther, a palliative care nurse from Nyeri Hospice, regularly visits the family. She told us about Ken and his family;
"Our team visits him every two weeks. Despite his condition the boy appears jovial with his pain well controlled with morphine. The family is happy with the care they are receiving; his mother said that it is making life worth living. "
Thanks to donations from our supporters, this care is provided by the hospice for free, so the family no longer have to make the impossible choice between paying for care for Ken or basic family expenses like food.
Low survival rates for cancer in Kenya mean a greater need for palliative care, as for many people this becomes the only option. As Kenya works to improve access to health care and cancer treatments, we need to fill the gap. We need to provide palliative care so that children and adults no longer die in pain.
£20 supports regular home-care visits to a person living with terminal illness
£60 provides vital morphine for pain relief for 20 patients for a year
£150 provides training for a nurse in paediatric palliative care
Sadly, Ken passed away at the end of February with his family around him. His family will now be supported by the hospice through their bereavement. You can help us to ensure that more children, like Ken, and adults have access to the palliative care they so desperately need by donating to us today.
Thank you
2018 Appeal for Support – Ken's Story