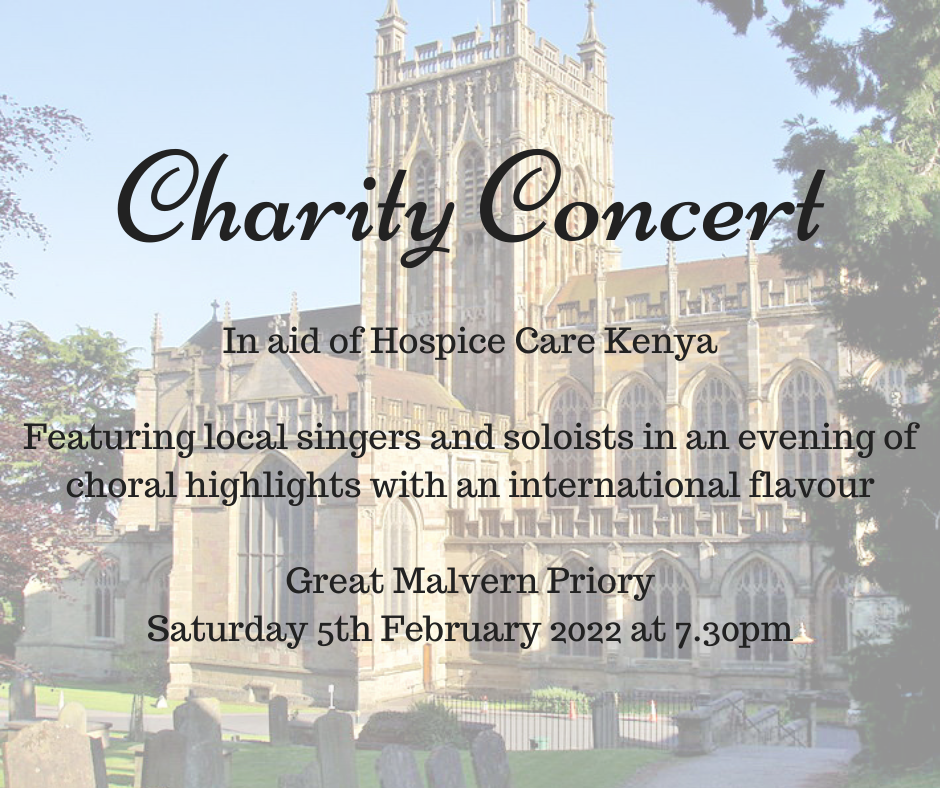 We are delighted to announce that a Charity Concert in aid of Hospice Care Kenya will be taking place at Great Malvern Priory on Saturday 5th February 2022 at 7.30pm. Join us for an evening of choral highlights with an international flavour, featuring the HCK singers and music from around the world. Many local singers and soloists will be supporting the concert including the Downs School Choir which will be conducted by Lesley Hunter.
Iain Sloan (retired Director of Music at Malvern College, Malvern Festival Chorus and The Brandon Hill Singers, Bristol) will conduct the concert. Iain founded the HCK Singers in the early 90s and since then there have been several concerts raising funds for the charity. Iain's wife, Gwyn, has previously been a Trustee of HCK and has visited the hospices in Kenya in her capacity as a hospice nurse so has witnessed first-hand the difference that medication and care brings to relieve pain and other distressing symptoms for those who would otherwise end their days with nothing. The charity concert organised by Iain and Gwyn at Great Malvern Priory in 2018 was an enormous success which saw over 250 people pour into the church to enjoy a wonderful evening of choral music. It raised an impressive £5,000 for Hospice Care Kenya.
The concert will be held at Great Malvern Priory, Church Street, Malvern, Worcestershire, WR14 2AY, on Saturday 5th February 2022 at 7.30pm. Tickets cost just £10 for adults and £5 for concessions. Online sale of tickets has now closed but tickets can still be purchased on the door on the night of the concert.
The concert is supported by Malvern College with printing sponsored by Aspect Design.
If you are unable to make it to the concert but would like to make a donation to us please use the Donate button above and reference your payment as a donation in lieu of attending. Thank you!
Join us at a Charity Concert at Great Malvern Priory on Saturday 5th February 2022