Over the past year hospices in Kenya have dealt with enormous challenges presented by Covid-19. Fear of the virus has kept many patients at home, increasing demand for home visits. Misinformation about Covid-19 has prevented many in need from seeking care, resulting in nurses finding patients in very poor health. The need for protective masks and gloves for nurses and patients is a huge financial burden. And since January, a government health worker strike due in part to a lack of PPE, has placed even greater strain and demand on the services provided by the independent hospices we work with.
Hendrika has been living with throat cancer since her diagnosis last year. Her sons were caring for her at home, but after losing their jobs due to the pandemic, and with young families of their own to support, they struggled to provide the care she needed. With the spread of  Covid-19, Hendrika has found herself even more alone. Patients like Hendrika, who require regular visits from health workers, are stigmatized by the fear that they could be infected with Covid-19. Even though Hendrika has not had the virus her family and community have stayed away. Hendrika was often left alone for long periods. She told us that she was often starving. After she fell from a bed and dislocated her hip she was referred by a doctor to Busia Hospice.
Busia Hospice nurse Peris now visits Hendrika regularly to provide care and ensure she has the pain medication she needs. Peris has also worked hard to teach Hendrika's family how to care for her and provide her with the correct nutrition. Palliative care nurses like Peris, working in rural Kenya, go to great lengths to visit their patients. With limited funds they use whatever means they can to reach patients, often travelling large distances over challenging terrain.
"Nurses from Busia Hospice have helped me so much. I believe I could have died a long time ago without their care. They give me morphine for free because I am unable to pay for it. They visit me often and when I am in crisis their counselling helps. I am very grateful for their services,"

Hendrika, patient of Busia Hospice
This year we aim to raise over £65,000 to support adults and children in Kenya living with life-limiting illness.
£20 provides morphine and medicines for a patient at the end of life
£50 covers the cost of a day-care meeting to support patients and carers, and teach Covid-19 awareness
£100 covers the cost of transport and supplies for a hospice to carry out home visits over a week
Please help us to improve the lives of patients and their families during these difficult times.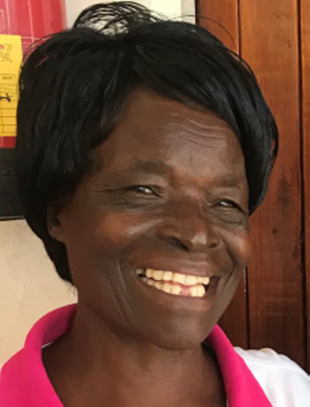 Shortly after writing this letter we received the sad news that nurse Peris had passed away. Peris was the founder and coordinator of Busia Hospice. A dedicated nurse and tireless advocate for palliative care, Peris improved the lives of so many patients across the county. She will be greatly missed.
Our 2021 appeal for support