Josephine is a community health worker attached to Kisumu Hospice. She introduced us to some of the patients that she is able to support thanks to donations from our generous supporters. This is Martin's story.
"We met Martin at a cancer awareness event. He had a large tumour on his stomach but we did not know what type of cancer he had. After tests, Dr Onyango from Kisumu Hospice diagnosed the cancer as dermatofibrosarcoma, a very rare cancer. It was so large the doctors were not able to operate to remove it.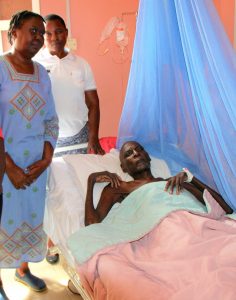 Over the past few months the cancer has become very aggressive and he often needs a blood transfusion. He is now bed bound and getting steadily weaker. Support from the hospice enables him to stay in a small local hospital where the hospice team visit him regularly.
His condition is very traumatising for his family. He has five school age children and we are supporting them but it is very hard to give them bad news. Their economic situation is hard because Martin was the breadwinner. His wife is here all the time caring for him so his children are by themselves at home with very little money.
I have formed a close relationship with the family. We visit their home regularly to provide comfort to the children and help them to understand. Martin is receiving free palliative care from our hospice team. We are controlling his pain with morphine to keep him comfortable, and supporting him emotionally and psychologically. Martin knows his outlook but he hasn't yet accepted it. He is still fighting."
Thanks to donations from our supporters, Martin receives his care for free. The little money the family has can be spent on caring for his five children. Your support would help families like Martin's to receive compassionate care and avoid financial crisis.
This year we aim to raise over £50,000 to support even more adults and children in Kenya living with life-limiting illness.
Please DONATE HERE to help more people like Martin
Thank you
Our 2019 Appeal for Support – Martin's Story