Friends of Hospice Care Kenya are holding their next Poetry in the Crypt in aid of Hospice Care Kenya on the 25th March at 7pm.
Mike and Nancy live in Islington, and are members at St Marys Church on Upper Street. Three or four times a year they take over the church crypt to run a wonderful event "Poetry in the Crypt".
At these joyful gatherings the audience is introduced to established poets who read from their latest works. What a great way to for us to enjoy the best of contemporary poetry read by their authors. The event has become well known so there maybe over 60 people present. There is usually a spot from the floor, and always a break for tea and home-made cakes.
Mike and Nancy give any income raised from Poetry in the Crypt to Hospice Care Kenya – so their hard work, and our enjoyment, supports hospices in Kenya providing palliative care in rural areas.
Mike and Nancy -Thank you for your support
Islington poets Mike Bartholomew-Biggs and Nancy Mattson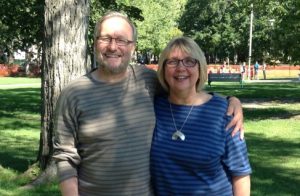 Poetry in the Crypt, St Mary's, Islington