---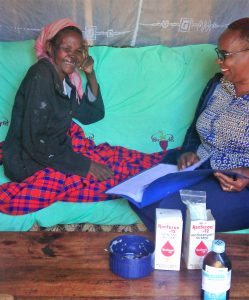 We believe that no-one should die in pain. A gift in your will, large or small, can make a big difference and continue your support for dying patients in Kenya long into the future.
A gift in your will would leave a lasting legacy of compassion care and support…
A gift of £500 would ensure that 50 patients receive the pain relief they need
A gift of £1,000 would sponsor a student to study a Diploma in Palliative Care
and take their skills back into the community
A gift of £5,000 would support a nurse to run day care and provide follow up in the
home for 45 patients a year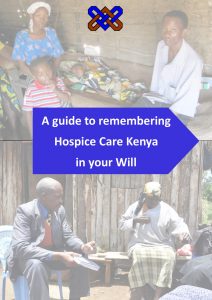 Why do I need a will?
Making a will is one of the most important things you can do to safeguard your family and ensure that after death your wishes are carried out. It is your opportunity to provide for the people and causes you care about most.
Without a will, the legal system will decide who receives what from your estate.
How to I make/change my will?
To make or change your will, you will need to visit your solicitor.

Before doing so, it's a good idea to put together a list of your assets (what you own) and liabilities (what you owe).

This will help you work out what your estate will be worth.
How do I leave a gift in my will to Hospice Care Kenya?
There are two ways you can leave a gift in your will to us – before you visit your solicitor, you may want to think about which you prefer – we have provided some example wording;
Residuary Gift




This is where you can leave the remains of your estate after specific gifts have been distributed, and any debts have been paid.


"I give free of Inheritance Tax (XX%) of the residue of my estate to Hospice Care Kenya……."

Pecuniary Gift




This is where you can leave a specific sum to the charity.


"I give free of Inheritance Tax the sum of £XX to Hospice Care Kenya…"
Please ensure that whichever you choose is followed by:
"…whose registered office is Hospice House, 34 – 44 Britannia Street, London, WC1X 9JG, registered charity number 1141469, to be used for its general charitable purposes. I declare that the receipt from their Treasurer or other authorised officer shall be a full and sufficient discharge to my executors."
Thank you for remembering Hospice Care Kenya.