Last financial year 2018-2019, of every £1 we spent, 89p was spent on developing and delivering palliative care in Kenya. We used the other 11p to raise more funds to
support this work in the future.
It cost an average of just £18 to provide care to each of those we helped. That's a small price to pay for improving a life with compassionate care,
pain relief and emotional support.
Projects supported in 2018-2019

Projects supported in 2017-2018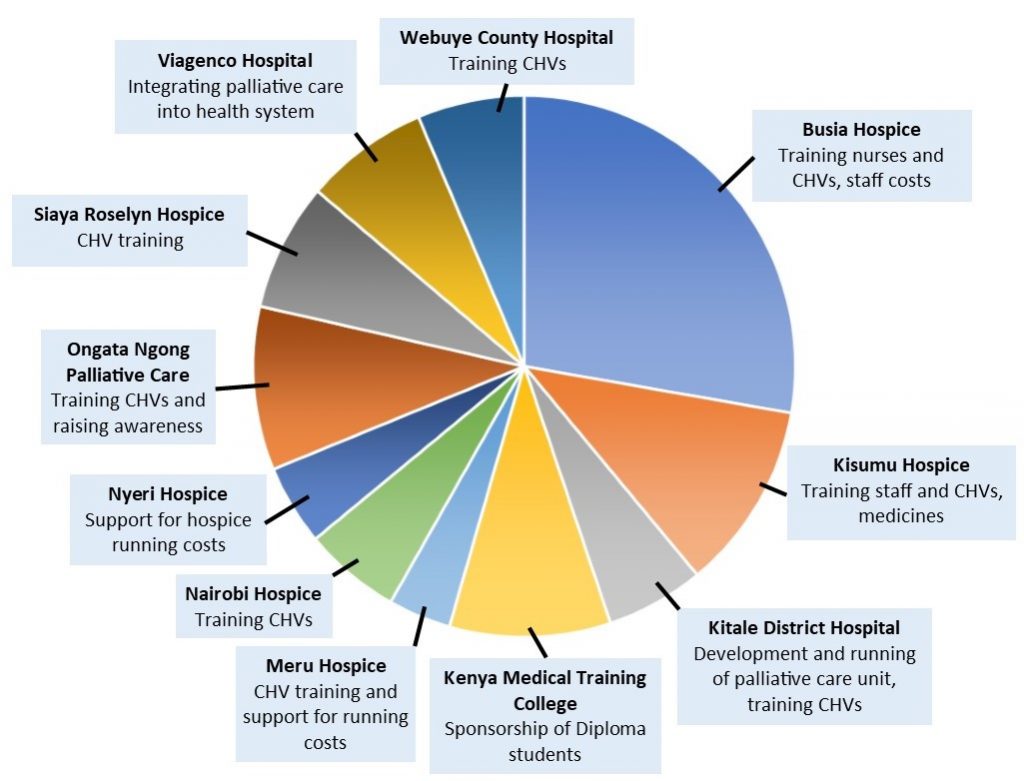 Projects supported in 2016-2017

Grants awarded 2015 – 2016
Organisation

Purpose Grant

£

Garissa PCC

Education and Training of Health Service Providers

2,843

Kisumu Hospice

Drugs

2,781

Living Room International (Kimbilio)

Community Health Worker Awareness Training

1,473

Machakos PCC

Children Palliative Care

4,517

Tenwek Hospice
Drugs and supplies

1,854

Coast Hospice

Running Costs of Existing Service

4,052

Nyeri Hospice
Community Home Based Palliative Care

3,054

Siaya Hospice

Community Health Volunteers Training and Awareness

2,054

Olkalou District Hospital

Community Health Workers Training and Awareness

1,856

Kenya Hospice and Palliative Care Association

Scholarships for KMTC Diploma Palliative Care
Children's Palliative Care

6,305
5,683

Laikipia PCC
Drugs and community services
Funds raised in the UK specifically for Laikipia

3,344
876

Nakuru Hospice
Senior Nurse salary

6,604
Grants awarded 2014 – 2015
Organisation

Purpose Grant

£

Busia Hospice

Drugs and Community

1,110

Embu-Mbeere Hospice

Vehicle for Community Outreach

13,406

Kenya Hospice and Palliative Care Association

Scholarships for Palliative Care Diploma
Support for 21 delegates from district and mission hospitals to attend National Palliative Care Conference

8,744
4,309

Hope for Cancer Kids

Support to enable children to receive free treatment

3,425

Laikipia Palliative Care Centre

Drugs, Day Care Equipment, Running costs of vehicle, Outreach training and Community Health Worker training

3,325

Kisumu Hospice

Drugs, Training and Community Health Worker Training

9,310

Machackos Palliative Care Centre

Small Equipment, Community Clinic costs, running costs of vehicle

2,396

Malindi Palliative Care Unit

2 Day Training on Palliative Care

1,520

Mwanga Hospice

Drugs

2,729

Nairobi Hospice

Vehicle, Training Community Health Workers

16,424

Nakuru  Hospice

Support for Senior Nurse

6,789

Thika Level 5 Hospital

Training community Health Workers

1,380