We are currently supporting 12 Hospices, Palliative Care Units and Training Programmes across Kenya, to provide quality palliative care, and train health workers and community volunteers.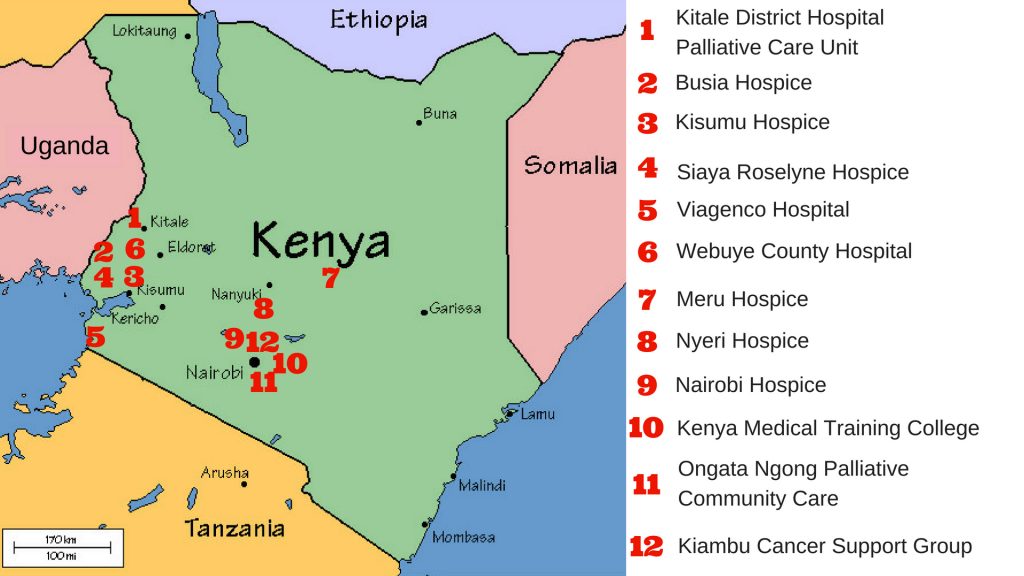 Kitale District Hospital Palliative Care Unit is expanding to enable them to accept more patients. We are supporting the purchase of new equipment, supply of pain relief drugs, community awareness campaigns to ensure that the public know that palliative care services are available to them, and home visits to provide care to isolated and house-bound patients.
Busia Hospice is scaling up palliative care provision through training two nurses in comprehensive palliative care and training over 30 community health volunteers to support palliative care provision in the community. We are also supporting the cost of the nurses for the first year until the project becomes established. This will improve monitoring and follow up of patients and enable new patients to attend the hospice.
At Kisumu Hospice we are funding the supply of morphine to ensure that patients do not have to live with pain. We are also supporting the training of 60 community health volunteers to expand the reach of palliative care services into the community.
Siaya Roselyne Hospice is being supported to train over 90 new community health volunteers, which will result in 400 additional people in need of palliative care receiving regular care.
Viagenco Hospital is training 50 community based palliative care givers and 10 nurses from different hospitals with our support.
At Meru Hospice we are supporting home visits, conducted teams of hospice nurses and community health volunteers trained in palliative care. Over 175 patients and their families are benefitting. We are also supporting some running costs to bridge the gap in the hospice's overstretched finances and enable them to continue providing vital services.
Nyeri Hospice is providing palliative day-care at their outpatient clinic for over 100 patients with our support. To provide access to palliative care for the large rural population, 60 CHVs are being trained to reach the most rural and isolated areas.
We are supporting Nairobi Hospice to train Community Health Volunteers across three slum areas; 100 CHVs are being trained and over 700 new patients will benefit from access to care.
We are sponsoring 16 students to complete a Higher Diploma in Palliative Care Nursing at Kenya Medical Training College, Nairobi Campus.
Ongata Ngong Palliative Community Care is training 90 Community Health Volunteers to care for patients and raise awareness of cancer and palliative care in their communities, with our support.
There is no hospice in Bungoma County, western Kenya, so with our support, Webuye County Hospital will train 30 general health professionals in palliative care to bring this vital service to local communities.
We are supporting Kiambu Cancer Support Group to train 20 community health volunteers to expand the reach of palliative care services into the community.
Current project activities at a glance