We are currently supporting 17 Hospices, Palliative Care Units and Training Programmes across Kenya, to provide quality palliative care, and train health workers and community volunteers.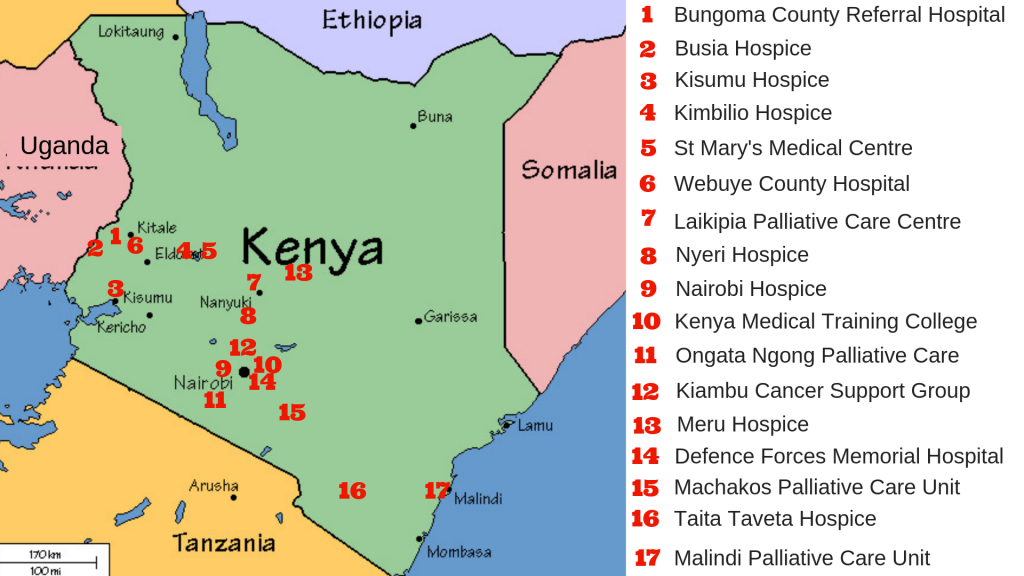 We are supporting Busia Hospice to carry out home visits to patients. Busia Hospice covers a very large area and many patients are not well enough or cannot afford to travel the long distances to visit the hospice. Home-based care is essential.
At Kisumu Hospice we are funding the supply of morphine to ensure that patients do not have to live with pain. We are also supporting the training of 30 Community Health Volunteers to expand the reach of palliative care services into the community.
Nyeri Hospice is improving access to palliative care for the large rural population. We are supporting them to train 60 Community Health Volunteers to reach the most rural and isolated areas.
We are supporting Nairobi Hospice to train 25 Community Health Volunteers in Kawangware slum, giving some of the poorest patients in Nairobi access to palliative care. This year we will also provide partial sponsorship for nurses undertaking a Diploma in Palliative Care with Nairobi Hospice and Oxford Brookes University.
We are sponsoring 11 students to complete a Higher Diploma in Palliative Care Nursing at Kenya Medical Training College, Nairobi Campus.
Ongata Ngong Palliative Community Care is training and supporting 45 Community Health Volunteers to care for patients and raise awareness of cancer and palliative care in their communities, with our support.
With our support, Webuye County Hospital will train 10 Community Health Volunteers in palliative care to bring this vital service to local communities.
We are supporting Kiambu Cancer Support Group to train 20 community health volunteers to expand the reach of palliative care services into the community.
We are supporting Kimbilio Hospice to run their outreach programme, Tumaini Na Afya, meaning Hope and Health in Swahili. Our funds are supporting home visits to patients for care and bereavement support, as well as telephone support to patients and family members.
Laikipia Palliative Care Centre will train 30 community health volunteers with our support, to extend services out into the community.
We are supporting Machakos Palliative Care Unit to train 30 health care professionals, including nurses, medical officers and social workers, at Makueni County Referral Hospital. This will improve palliative care provision in the county and facilitate referrals for patients to the palliative care unit, ultimately helping to integrate palliative care into the health system.
St Mary's Medical Centre is carrying out home visits to provide home-based palliative care for patients and bereavement support for families. They will also train community leaders and volunteers in palliative care awareness.
We are supporting Malindi Palliative Care Unit to develop their programme of community services including home visits to patients and support groups.
Defence Forces Memorial Hospital will train 120 medical staff in palliative care to improve palliative care provision and referral of patients, with our support.
We are supporting Bungoma County Referral Hospital to train 30 medical professionals to improve referral of patients in need of palliative care.
Meru Hospice and Taita Taveta County Hospice are receiving support to purchase essential drugs and morphine to provide this essential aspect of palliative care to their patients.